What's it like to read your first words at the age of 60? What difference does it make after a lifetime of getting by without reading?
If you think about how much written information we consume every hour – going through emails at work or flicking through messages on mobiles phone – it's hard to imagine being without these ways of communicating.
But Florence Cheptoo, who lives in an isolated rural village near Chesongoch, in Kenya, has turned her first page as a 60-year-old.
Her path to reading began when her granddaughter brought home books from primary school.
The school had been given a small lending library of books, through the Book Aid International charity that distributes books donated by UK publishers.
But many of the parents and grandparents of the schoolchildren were themselves unable to read, and teachers began literacy lessons for adults.
Florence, forwarding her answers to the BBC through a local librarian, said she now felt "part of those who are in the modern world".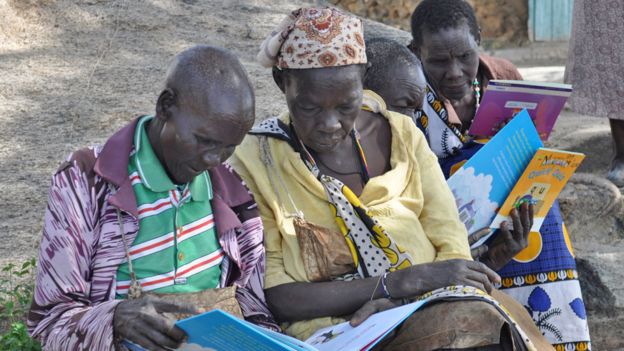 When she had been younger, there had been no support for her to become literate, she said.
Her parents had wanted her to marry and to get a dowry and stay tending livestock – and there had never been a chance to learn.
"My parents did not value the need for education," she said.
It meant that she couldn't sign her name or read any legal documents or check if she was being cheated over payments.
Now, Florence has begun reading and lists the practical differences it has made in her life.
She can read the information on medicine she is prescribed, she can look at newspapers and find out about the outside world and take charge of her own personal records.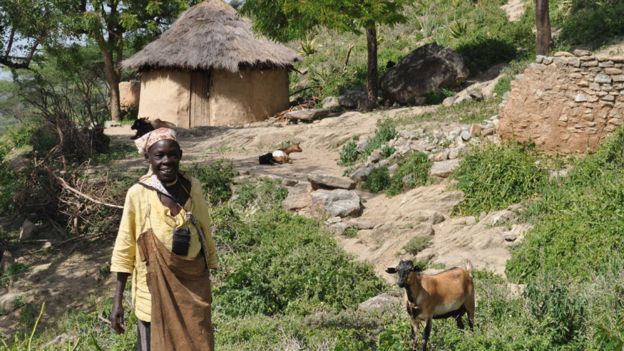 There are things she said she particularly enjoyed: reading storybooks for the first time, getting letters from her family and being able to read the Bible for herself.
The world of maps has been opened up. "I like knowing where other parts of the country are located," she said. And she has been getting books on agriculture "so that I can learn how to farm".
When her grandchildren get school reports, she can see how they are progressing.
It had given her a new confidence, she said, letting her feel more knowledgeable and able to have an opinion alongside people, either literate or illiterate.
"I am able to identify what is good and bad in society."
Florence wasn't the oldest member of this adult literacy class.
There was also a man in his 80s. His eyesight wasn't very good and he didn't really think he would become much of a reader – but he told the teachers that he wanted to be seen regularly at the class to send a message to the rest of the village that this was important.
Comments
comments